Euoplocephalus tutus skull

Scale 1:10
L ~60, H ~35, W ~60 (mm)

Hand-cast polyurethane resin from
Pre-assembled and painted from 3 parts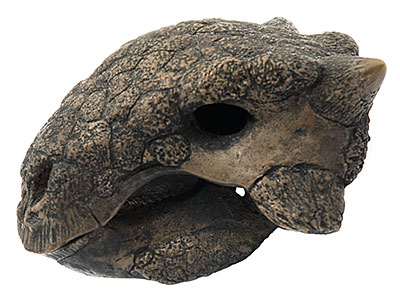 I've had this model since 2004 when I bought the last copy from Link and Pin hobbies in Las Vegas. At the time I was hunting for a copy of the fabulous Ants Allosaurus skeleton model and having no luck (it took me five more years to find one) I was delighted at least find this original Ants product still for sale. Ants closed their doors in 2000 so any merchandise had long since been sold out, except of course this little fellow!
It was sculpted by Lasha Tschondia, a talented palaeoartist who made a wide range of skull models for Ants. All Ants skull models were standardised to 1:10 scale, which made some quite large and others very tiny indeed. But that's the fascination of Ants products; the company went the extra mile to put as much academic and educational value into everything they did. What a great pity they are no longer around!

This model was sold fully assembled and mounted in a clear presentation box. This fits with the whole Ants philosophy that every product should be as much like a miniature museum exhibit as possible. So it comes mounted on a display board inside its own display case—marvelous! The display card folds open for even more palaeontological information on the specimen. Why is there no other company up to this standard of excellence I wonder?

If you have additional information, resources or images
I am very keen to hear from you. Please contact me.