Hello
I'm always looking for great dinosaur skeleton models, so if you know of one not included here please drop me a line at
brantworks@gmail.com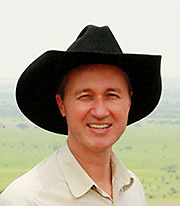 About
I joined Australian Age of Dinosaurs in July 2009 as Chief of Operations. Yes, Australia finally has some big and exciting dinosaurs—AAOD is amazing, check out the website.
I have a PhD in molecular genetics and worked in academia as a research scientist. Following that I worked in the biotech industry for companies that provide instrumentation and reagents for genetic analysis. Following my tenure with AAOD I returned to the biotech industry to launch the incredible NanoString Technologies in Australia and New Zealand.
My family home with wife, daughter, and an Italian greyhound (that's a type of dog) is on the Gold Coast in sunny Queensland, Australia, although we're currently living in Auckland New Zealand.
I've been collecting and building dinosaur skeletons since 2003. It keeps me entertained.
Aquaria
My other interest is naturalistic planted aquaria (also known as
Nature Aquaria
). I don't own a tank at the moment but this is a temporary hiatus. As a hobby for naturalist technophiles like me I can recommend it. My most recent aquarium (below) featured a custom built CO2 injection system, metal halide lights, dawn-to dusk (and even moonlight) lighting, under-gravel heating, surface skimming, automatic water change, automatic feeding, UV water sterilization, etc. The plants literally "fizz" oxygen bubbles into the water when the main lights are on—very beautiful but it means a lot of gardening work as plants grow quickly! Half the fun is collecting and trading rare plants. One thing you learn however, is that any plant or fish looks great when healthy and happy. One day I might create a nature aquaria website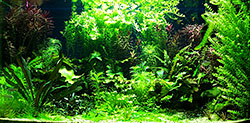 My most recent aquarium; L1200, H 750, D 600 (mm)

Tacca integrifolia
Native of the Malaysian jungle
Ever since I first heard about them I've always wanted to grow and flower the amazing bat plant. I think it's one of the most fabulous flowers ever to evolve! Not surprisingly, it's also hard to get and difficult to grow.
After years of looking, I did manage to find one at a rare plant nursery. It died. But as they say; never give up, never surrender!
The next plant I obtained was much more robust and became a shared project for my wife and I. We potted it and babied it for two years and it's finally flowered! That's me proudly beside the flower in Jan 2011. The flower has not fully opened yet as the white bracts will eventually rise up more like spread wings. I would have waited but the plant is in my family home on the Gold Coast and I had to get back to Winton and my AAOD dinosaurs at the time. The flower can get bigger than this one I believe but the "whiskers" of mine are about 700 mm long and the white bracts are about 170 mm across in the photo. Still pretty big! There's also a smaller black species. I have one of those now too but it's still young and may not flower for a couple more years.