Happily, I'm not alone in the wilderness; there are other people out there who delight in making accurate model dinosaur skeletons!
I call them skelmakers. Some of the best skelmakers are discussed on this website and here are a few of the best:
Shigeru single-handedly produced all of the dinosaur skeleton models made by Kaiyodo in its dinosaur heydays of the 1990s. A remarkable series of models, the
Kaiyodo
skeletons were produced in very limited numbers and, as a series, have never been equaled. Shigeru worked from the plan drawings of
Gregory Paul
, creating models of unmatched detail and, especially for the time, anatomical fidelity. It was the discovery of these models that inspired me to collect and later make skeleton models of my own.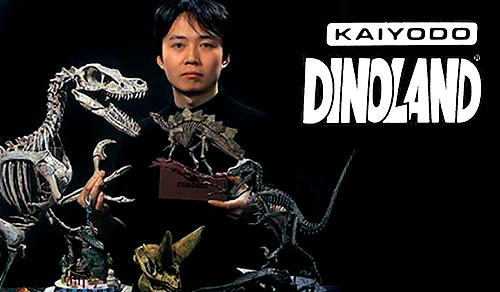 Nelson creates magnificent miniature bronze dinosaur skeletons. With the highest standards of scientific accuracy and artistic flair, they are truly mesmerizing.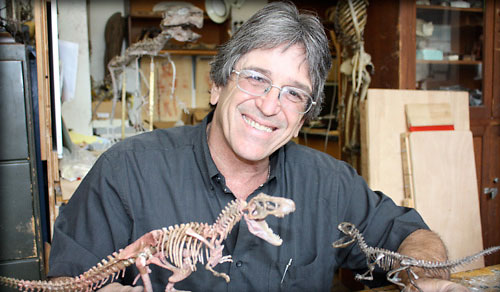 Bruce reconstructs life-size skeletons of small dinosaur species. His hallmarks are attention to detail and absolute scientific correctness. Bruce's models are normally purchased by museums but are now available to interested collectors.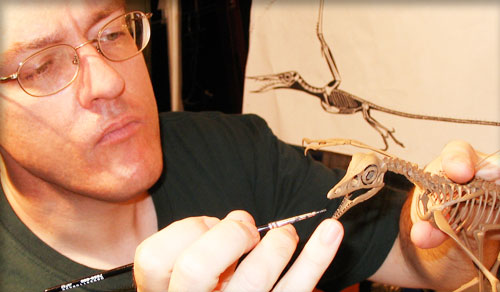 Taburin is arguably the finest skelmaker of all. His collection is certainly the largest and it's all his own work! A Japanese schoolteacher, Taburin has been refining his art for many years. Carved mainly from wood and often at a standard 1:10 scale his skeleton models are truly outstanding. While he specializes in dinosaurs he has recently branched-out into mammalian skeletons. His new website is still under construction and only a fraction of his work is represented at present. If only he would cast and copy his models for collectors like me!
Check out Taburin's amazing Photostream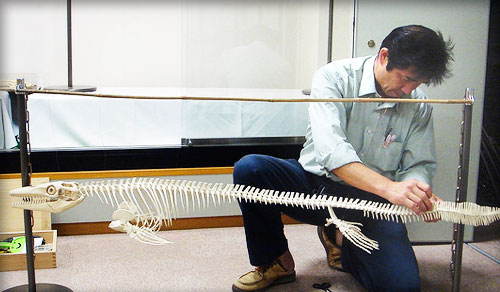 Steve is another talented paleoartist who specialized in skull and skeleton reconstructions. He started the Wiccart brand to promote and distribute his work as hand-cast resin kits. Steve put a tremendous amount of effort into trying to get every aspect of his sculpts in line with the literature. Sadly Wiccart closed its doors in about 2000. All Wiccart kits are rare, with production runs of each model set at a maximum of 25.
Although long closed, I've created a WAYBACKMACHINE link to the original Wiccart website so you can learn more about Steve's work.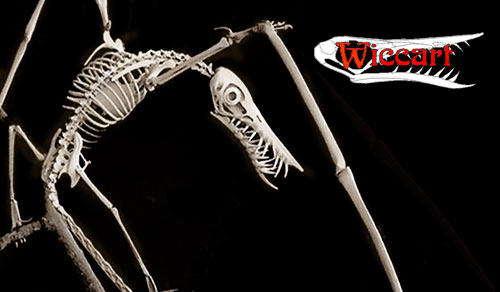 I only know of Hannay from a link to his gallery (sent to me by fellow enthusiast
Sebastien Enault; see his collection here
). Hannay is from China and builds his models from 'clay' (probably an epoxy clay). Studying the progress photos in
his gallery
it appears that he first traces a skeleton reference drawing onto a hard support, then cuts or carves-out the basic shapes to achieve correct proportion. He finishes his models with a layer of 'clay' over the support. Hannay has made an impressive array of models, some of which are quite unusual. Well worth a look. His sculpting method seems to be inspired by
Shigeru Yamazaki's
.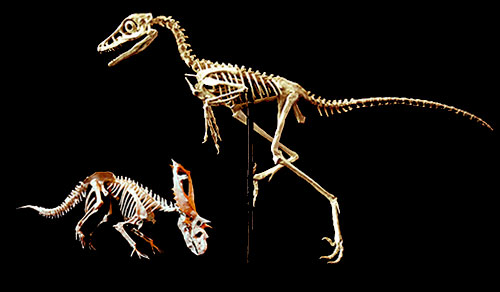 Doyle is a classically trained and gifted sculptor. He's recently created a unique and wonderful "skulpt" of T. rex that is fleshed on one side and skeletonized on the other. He works at the Los Angeles County Museum of Natural History and was part of the team who discovered "Thomas" the teenage T. rex (on which his model was based). Working alongside paleontologist Louis Chiappe, his model has the highest scientific integrity. Doyle recently opened dinosaurmodeltoys.com, a webstore portal to sell reproductions of his dinosaur art. Well worth visiting!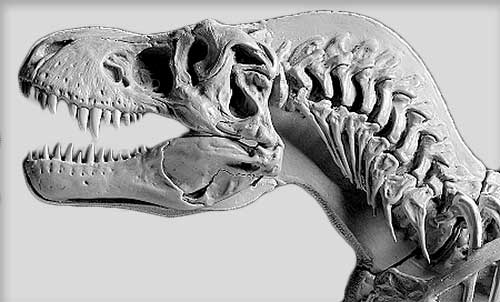 In his own words: "For the last year (and more) I've been working on a 1:10 scale Tyrannosaurus rex skeleton using safe, cheap and easy to use materials. There's an article/interview about it and me here. I've been posting my progress online at conceptart.org. You can follow along with what I've done (and what I've yet to do) starting here."
Great project and very inspiring. Bruce is proof that the information and resources needed to build a great skeleton model are available to anyone with the motivation to "have a go". Furthermore, lots of people are interested! (Note Bruce has embedded some great links in his writings; you are bound to find images and articles of interest if you look.)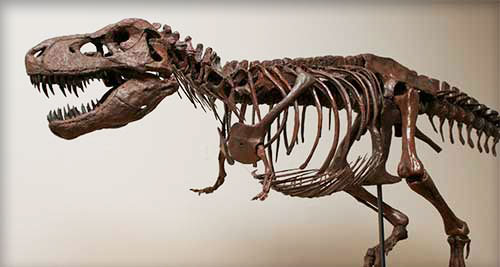 Adam Savage
Host of MythBusters the TV show, Adam became obsessed with the beauty of the dodo skeleton and simply had to have one. When he couldn't find a copy for sale he made one, qualifying him as a skelmaker. Yes, I know the dodo is not a dinosaur but it is at least extinct and anyway Adam's enthusiasm in the video is a joy. Needless to say, I can relate to his obsession!
This, clearly, is a TED talk. TED is one of my favorite sites and I recommend at least one TED talk a week (a bit like an apple a day...)
(BTW, did you know Mythbusters is an Australian show? Yep.)
This link doesn't belong on this page, the author(s) do not qualify as skelmakers, however it's so cool it can reside here until I make a separate collectors page. There are some really interesting dinosaur skeleton collectors out there and this is a great example. The Steampunk website has a wonderful retro-Victorian aesthetic. Great site!
(Note there are some real gem links hidden away in
the Steampunk site
. Navigating them and reading the Google-translated Japanese makes it all the more fun. Be sure to look around.)