Gaston Design Inc of Fruita CO, USA sell a cast of Phil Platt's Apatosaurus skeleton reconstruction.
I obtained my copy from Gaston Design in Dec 2004. They very obligingly custom-cast it in white resin for me (it's normally cast in black to match the original fossil remains). They sent me several photos of the model assembled and colored as intended (shown opposite). I believe I have cast #3. The company is great to deal with and I highly recommend them.
The Gaston cast is sold as an assembled mount or unassembled kit (I purchased the latter). In kit form, parts require extensive cleanup. Most of the vertebrae are cast separately and mount on steel rod armatures running through their centra. They need to be drilled-out carefuly first. Due to the complexity of some of the casts (such as the neck vertebrae) a fair amount of filling and shaping is required to fix distortions where mold sections misalign. You need to be fairly resourceful to build this kit.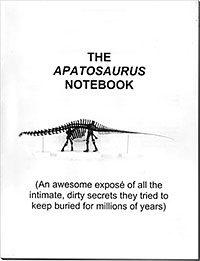 Not to be overlooked is the fantastic 90-page monograph that comes with the kit (pictured left). Titled The Apatosaurus Notebook, it was written by Phil Platt and is a great summary of the history of Apatosaurus, its osteology and his scale reconstruction. It includes technical drawings of every bone (see an example here). It is an important publication on Apatosaurus osteology and should be more widely available.