Kaiyodo DINOLAND resin garage kit model, circa 1995, sculpted by Sigeru Yamazaki.
After many years searching, I finally obtained an example of this kit from John Carlson, President of Monstrosities Inc. the company that imported these kits to the USA. John had a copy in his collection that was mint, unbuilt and unopened.
Again, Kaiyodo has produced an outstanding work. One of the last DINOLAND skeleton models, it exhibits improved and consolidated production techniques. For example, the entire skeleton is cast in only 13 parts, all of which were designed for easy assembly. Mounting lugs are built into the model in various ways to help orient and secure parts for gluing. Transparent resin was used for the first time also (see below). For this model the ribs were molded onto the spinal column; a vast improvement over a bag of individual rib parts as affixing and aligning them all normally takes a great deal of time and patience. Molding was excellent, however there was a great deal of resin flash for a Kaiyodo kit, presumably a consequence of ensuring the complex parts were properly formed (remembering these are hand-cast). The single-piece neck is a masterpiece of casting as every vertebrae, rib and spine were perfect on this very long part!
Like their other skeleton models, this one has an unusual pose with the neck bent up so sharply. For my build-up I straightened the neck (with the careful application of a heat gun; see Images).
The artist used some license to reconstruct a juvenile ("baby") version of the skeleton. Notably, the skull is oversized, a genuine juvenile trait, however the neck has too few vertebrae (there are 44 where there should be about 60 for this species. The exact number of neck vertebrae remains unknown but will be the same irrespective of the animal's age). In a juvenile skeleton, many of the bones "float" as separate elements and gradually fuse together as it matures. This is true of the skull, vertebrae, chest and pelvic bones. Bones in the elasmosaur paddle were also likley to be more loosely spaced until maturity sets in. So the model is more accurately an adult skeleton with an oversized head and too few neck vertebrae!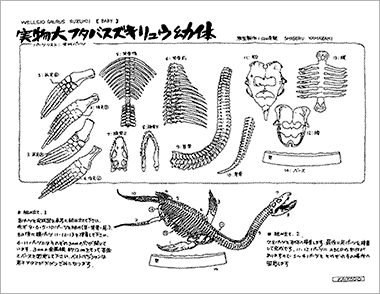 Instructions (single-sided sheet)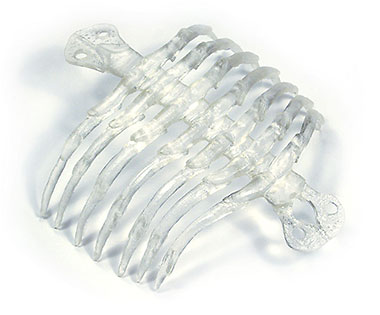 Gastralia (belly ribs) "float" in the muscle layers of the Elasmosur, as do bones of the shoulder and pelvis. To achieve the look of floating gastralia, the set is cast in one piece on a certral supporting bar in clear resin (see above). Once the ribs are painted they will appear to float on a transparent connector. This transparency trick is unique to this model of the DINOLAND skeleton series.

The model includes an unusual block nameplate (shown above) designed to sit tombstone style on a mounting base (a base was not included in the kit).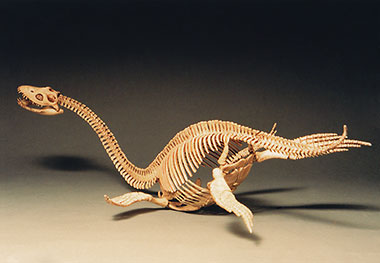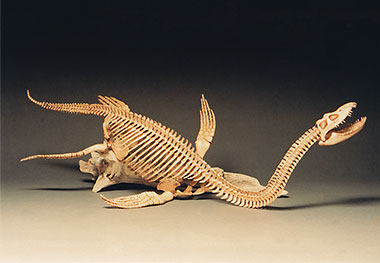 Glossy 3" x 5" photos included in the kit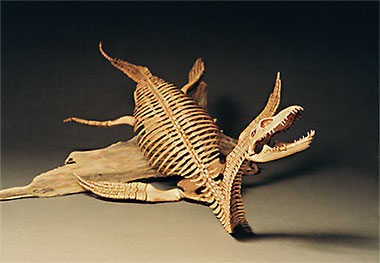 Glossy 3" x 5" identification photo in a plastic sleeve taped to the box top. The photo
had faded compared to photos inside the box. The image above has been restored.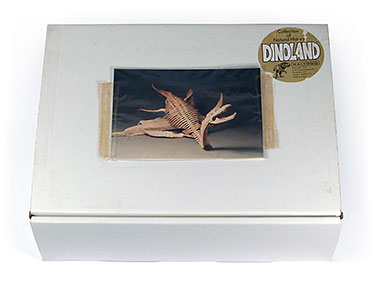 Kit box: W 250, H 85, D 190 (mm
The example I have is clearly aged (it was 15 years old when this photo was taken).
The tape used to attach the boxtop photo had turned brittle and yellow with age.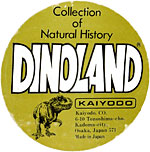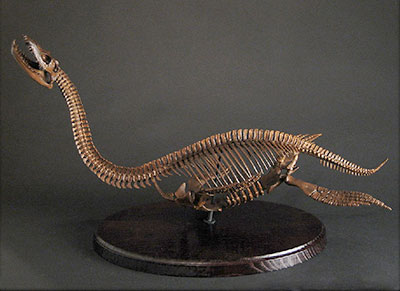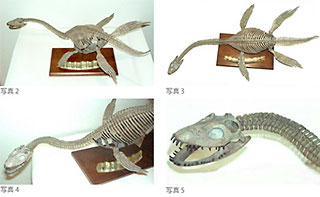 Favorites Buildup
These photos of a build-up were discovered on a
Favorites webpage after searching for the original
misspelled name "Wellsiosaurus". Note the models
imported to the USA included a metal support rod
but no wooden base as shown here.
Hobby Japan
Mini review appearing in Issue 4, 1995 Hobby Japan magazine. Image courtesy Horst Bruckmann

Hobby Japan
First (and last?) advertisement for the DINOLAND Futabasaurus skeleton model in the March 1995 issue of Hobby Japan (issue 309). Images kindly provided by John Carlson.

Note the price of the kit at ¥35,000, that was about US$350 (or about A$440) in 1995! A little less expensive than the T. rex skeleton kit, but probably a reason so few DINOLAND skeleton model kits were made and only a handful were exported from Japan!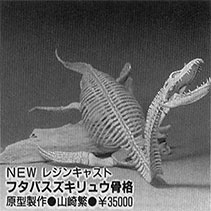 Request
If you have additional information, resources, images
or can help with translation of the Japanese descriptions
of this or other
Kaiyodo DINOLAND skeleton models
I am very keen to hear from you. Please
contact
me.