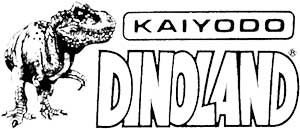 DINOLAND
Kaiyodo's DINOLAND series is an outstanding collection of scale model dinosaurs. Dating from the mid-1990's, it included a number of full skeleton reconstructions. The skeletons were superbly detailed and, especially for the time, extremely accurate. Even complex elements such as the gastralia (belly ribs) were modeled. As a series they have never been equaled.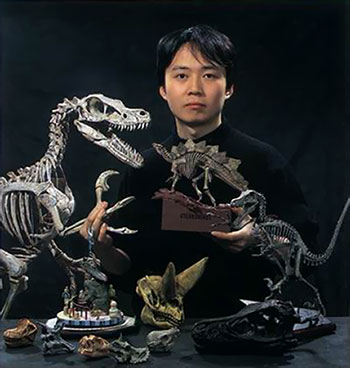 Shigeru Yamazaki with several of his models
Artist
Despite the importance and technical merit of the skeleton models, researching them has been a challenge. One of the important questions for me was the identity of the artist or artists involved.
Interestingly, all the Kaiyodo osteological models were the work of one man; Shigeru Yamazaki. He's credited on the
Futabasaurus
and
Velociraptor
skull documentation but not on other kits I have. I find no mention of him searching the web, which is surprising since other Kaiyodo artists are easy to find.
Kaiyodo
Kaiyodo is a Japanese company many dino fans will know of, especially after the success of the Dinomania line of miniature dinosaur and prehistoric creatures. But Kaiyodo can be frustrating for anyone outside Japan; their web site is entirely in Japanese and impenetrable to a non-Japanese reader like myself. Even their most successful dinosaur product, the Dinomania series, is not sold through regular channels, so don't look for them in your local store! That said, they have produced a huge range of outstanding models over the years as any web search will quickly discover. Kaiyodo built their reputation with high-quality garage kit models and early kits, such as those described here, were all hand cast from silicon molds. This "garage" production technique is labor intensive and few were made. They were also expensive.

Status
This page summarizes what I know about Kaiyodo's DINOLAND skeleton model kits. Much information is still missing. If you can help me update this resource with further material I am very keen to hear from you. Please contact me.
Ceratosaurus
Scale ~1:20
Released as a DINOLAND model for a very brief period, it is the rarest and smallest of the series.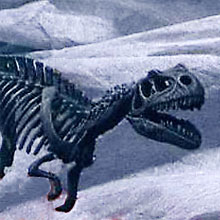 Stegosaurus
Scale ~1:30
Created by Shigeru Yamazaki to illustrate how to build a skeleton model. Although made by the same artist as created the other skeleton kits it was not a KAIYODO product.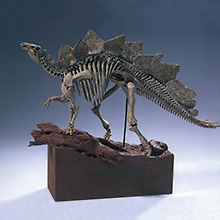 Collected images from
the Kaiyodo workshop.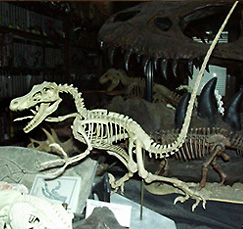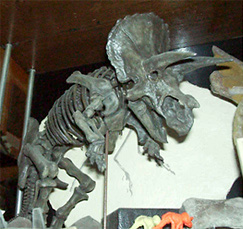 ---
Full scale Velociraptor skeleton

Possibly Shigeru's first skeleton model,
it was likley a commissioned work. The
snapshot below is imprinted 1992,
which predates the skeleton kits.