Scale 1:20
L 255, H 90, W 35 (mm)
Hand-cast polyurethane resin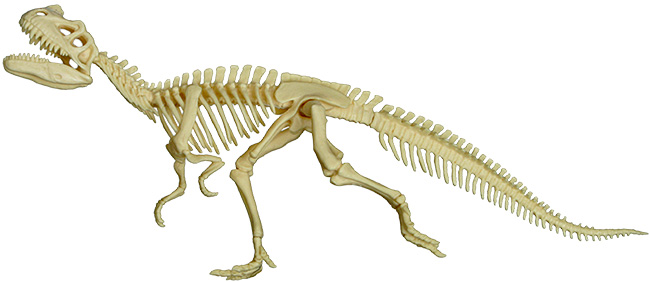 The rarest and strangest of the Kaiyodo DINOLAND skeleton series, it was apparently the last to be produced. It's less than half the size of the other models and also the least detailed and least accurate, as the images here attest. Further, the proportions are incorrect (the skull is too large for one thing). This model falls far short of the excellence of other DINOLAND skeleton models.
I can only guess the story behind this model. Perhaps Kaiyodo (or the artist Shigeru Yamazaki) was attempting a model that was simpler to produce and at a lower pricepoint.
It comprises 14 parts, the tail is one-piece and the remaining spine is bisected down the vertebrae midline and cast as joining halves (with all ribs cast together on each half). The skull was similarly bisected.
My copy of this model was a kind gift from Horst Bruckmann. It is extremely valuable to a collector like myself as so few were made. Horst assembled the model some time ago and disposed of the packaging and instructions. However, I was kindly sent a scanned copy of the original assembly instructions by a collector and friend from China named Leonard.

If you have additional information, resources, images
or can help with translation of the Japanese descriptions
of this or other Kaiyodo DINOLAND skeleton models
I am very keen to hear from you. Please contact me.