Scale: 1:20
L 285, H 165, W 55 (mm)
Hand-cast polyurethane resin from silicon molds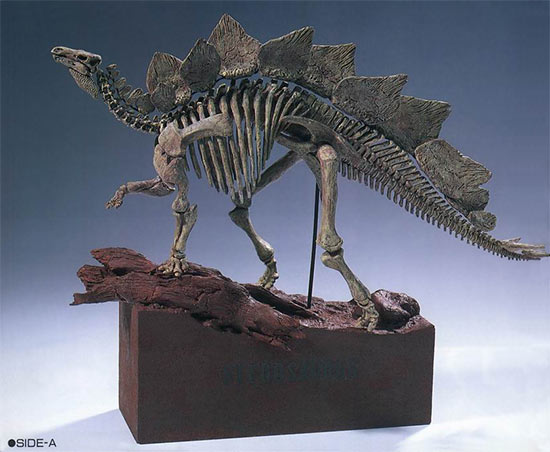 The original model was sculpted by Shigeru Yamazaki, the artist who made all the Kaiyodo DINOLAND skeleton models. I finally obtained a Taiwanese recast of this model from a friend in China (details below).
Images and the making-of article provided by Zhenghao Chen (USA) and, more recently, scans of the kit instructions provided by Chinese collector Leonard. Unfortunately I can't read the Japanese instructions as they may probably shed some light on the models origin.

What's immediately apparent is the kit was not a KAIYODO product, as I had originally assumed, since the KAIYODO brand does not appear anywhere on the printed instructions (shown below). It seems likely that Shigeru made and sold this model himself. Interestingly, it's the only one of his sculpts that included a diorama base.

As a non-KAIYODO kit, it's very likley the rarest of Shigeru's skeletons and although small (~30 cm) it is beautiful, detailed, and accurate.

An intriguing photo of raw resin cast parts of an original Shigeru kit.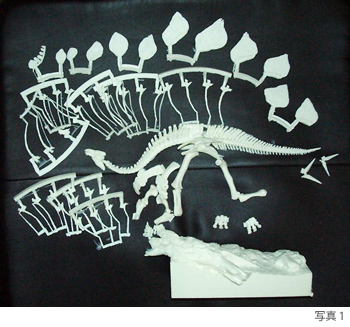 In December 2011 I obtained a superb recast copy of the Shigeru Stegosaurus skeleton kit. I have no record of what the original kit production was like but this looks like a good facsimile, it comprised:
Box with original art label
Bagged part set
Diorama base

Glossy photo print
2-sided instruction sheet

If you have additional information, resources, images
of this model I am very keen to hear from you. Please contact me.