No modifications were made to the model, which is painted to resemble old bones from the seafloor (as shown in the 2002 movie
Godzilla Against Mechagodzilla
that inspired the sculpture). The body form is based on the original
1954 type Godzilla
(G has undergone many appearance changes over the years)!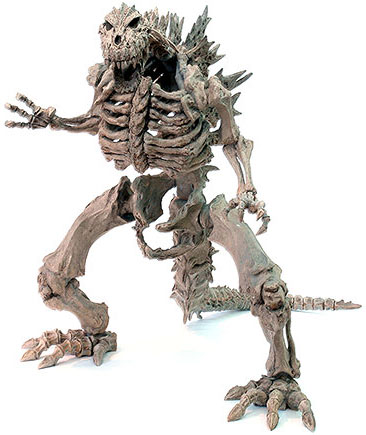 Kit
An original T's Facto resin model from Japan. Produced in 2006, it is already out of production. I don't know how many copies were made but typically fewer than 100 kits of this type are ever produced.
This is a great example of a Japanese resin garage kit model. The artistry and detail are excellent, the cast was faultless with virtually no flashing or other artifacts. The resin used was of the highest quality.
Packaging and documentation are typical of the genre; it was hand-made in every respect, it included only a photographed parts list and two single-sided postcards (detailed below). No step-by-step assembly instructions were provided; kits like this are intended for experienced modellers who don't need such luxuries.
Inexpensive recasts of this model are not difficult to find, as is often the case for classic models where originals are out of production, costly, or otherwise difficult to obtain.
Original T's Facto Godzilla Ghost kits have a small gold foil sticker on the box top featuring a Godzilla logo and the year of production (it can be seen in the photo below at the bottom right corner of the box-top artwork).
Artist
The model was sculpted and produced entirely by Takashi Yamawaki (pictured below) who is known also as "T".
T specializes in Kaiju models with a Godzilla theme. Self-taught, T's sculptural and interpretive skills are outstanding.