I don't own this model and know very little about it.
The details on this page were largely provided by Frank Galef, a friend and fellow collector. Frank sent photos of his build-up and scans of the kit instructions. Oddly, the tip of the snout looks asymmetrical when viewed from above, but otherwise it's a fine looking model.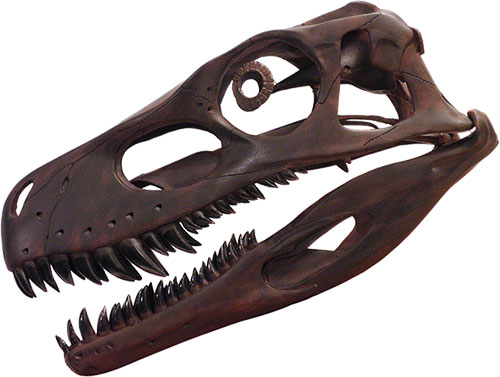 Only 25 were made

Comprises:
Total part count unknown (all 76 teet were separate elements)
3 pages of instructions
Color photo of finished model

Water slide decal
No box or custom packaging

No mounting hardware (wood base available by request)

Scans of the instructions kindly provided by SiaoMouse (Singapore)

Prehistoric Times
Wiccart has released their

Herrerasaurus ischigualastensis

skull model. This beautifully done 1:1 scale kit is a foot long representation of the skull of this earliest of dinosaur predators. This guy sported some 76 nasty looking teeth and with Wiccart's model, you get to insert each and every one.

— Issue #14, September–October 1995
If you have additional information, resources or images
I am very keen to hear from you. Please contact me.