I don't own this model and know very little about it.
The details on this page were kindly provided by a
Singapore collector known as SiaoMouse.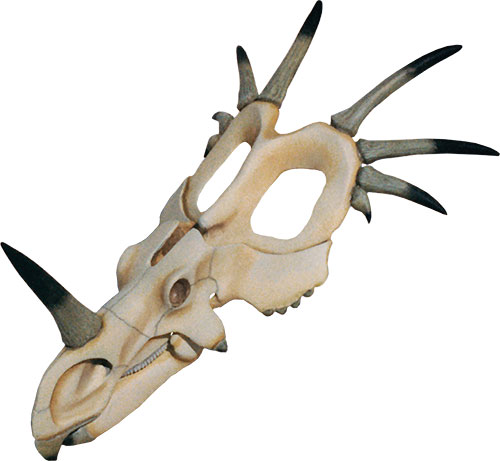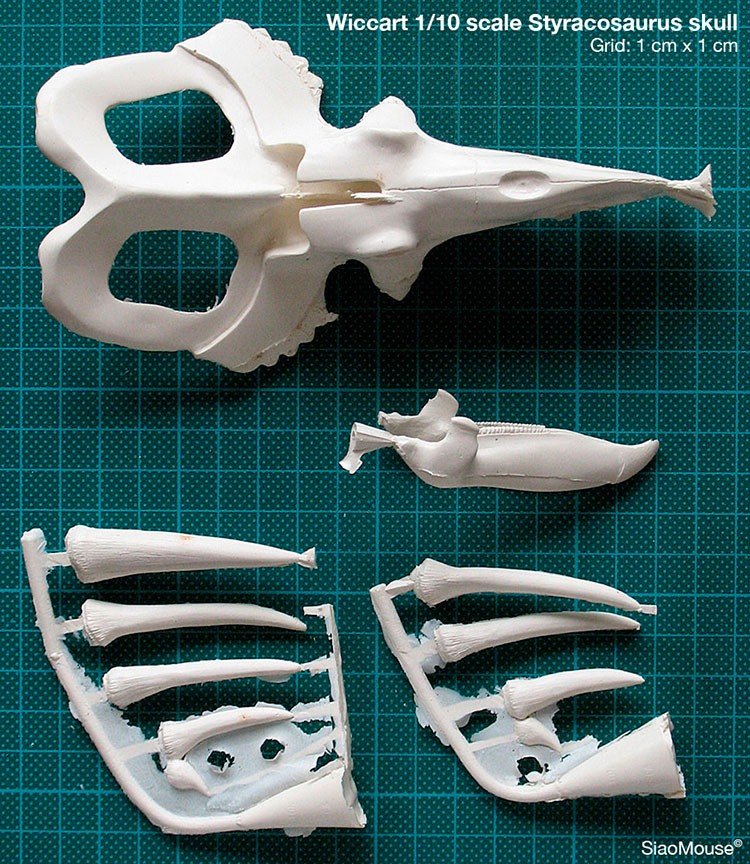 Parts images kindly provided by SiaoMouse (Singapore)

Scans of the instructions kindly provided by SiaoMouse (Singapore)

Prehistoric Times
Steve Harvey's company, Wiccart of Ontario, Canada is offering Styracosaurus as their latest resin model kit. You may recall that PT reviewed Wiccart's Rhamphorhynchus and Riojasuchus in past issues plus Steve also released a Herrerasaurus (hey, we can't review 'em all) skull kit as well. Steve is the owner and sole sculptor for Wiccart and he's done a fine job on his new Styracosaurus skull. Steve is also the publisher of Archosaurian Archive, a newsletter on popular paleontology. Steve sculpts minute details into the horn/spikes of Styraco but the skull itself is relatively smooth. This may seem strange until you read the four page instruction/ information guide. As with all of Steve's skeletal models, Styraco is a restoration and should therefore be treated as a recently deceased animal; fresh bones, not fossilized.The white resin Wiccart now uses is wonderful and a major improvement over the resin used in previous kits. Air bubbles and clean-up on the resin is minimal.There is a small seam on all parts that is easily removed. The seam on the skull itself may require a little filling. Excess resin (flash) is also easily removed, even a considerable piece on the snout. Wiccart's 1:10 scale Styracosaurus albertensis skull measures about 8" in length when built. It is comprised of nine highly detailed pieces plus a nice (wet-type) decal for a base or nameplate (not provided). Steve even includes a numbered certificate of authenticity. Act fast! Only 25 copies of Styraco were made and over half of those have already been sold. Steve always accomplishes an exhaustive amount of research for each new work and has completed a new mosasaur skull that we plan to review next issue. Steve says that he is now ready to tackle a life restoration. First, however, a Triceratops skull is in the works. Coincidentally, considering this issues' two animals of the month, Steve is also planning a Dunkleosteus and Oviraptor.
— Issue #21, November–December 1995
Model Dinosaur
When Steve Harvey of Wiccart and Archosaurian Archive contacted me earlier this month he also sent me an example of his latest resin kit - a 1:10" skullpture" ( sorry! ) of Styracosaurus albertensis. This is an exceptionally well detailed piece comprising just nine easy-to-assemble parts and comes with decal nameplate, a numbered and signed certificate of authenticity (there will only be 25 made, so be quick) and some extremely well detailed instructions. Be patient building this model. Some time will be required to clean away mould seams and slight flashing — use of a sharp knife is vital — and a flexi-sander will be manditory. Fill any small air bubbles etc., with 'white' Milliput ; this is especially important in the more obvious places such as the beak and crest.I assembled the kit with 'Superglue' and primed it in matt white cellulose closely following Wiccart's instruction sheet notes. Fullest marks to Steve Harvey for the latter. Quite the most comprehensive and helpful instructions I've ever seen supplied with any kit, let alone a specialist Dinosaur one, and setting a standard for others to aim for.
— Issue #11, Summer 1996
Archosaurian Archive
The latest release from AA editor's company Wiccart, is an outstandingly detailed scale replica resin skull kit of the well-known ceratopsian Styracosaurus albertensis. This kit is the fourth issued by Wiccart, and in many respects the finest. Measuring 8 1/2 inches in length and 4 inches in height to the tip of the horn, Styracosaurus is an easy assembly which contains only nine pieces. Detail on the skull is exceptional. Careful attention has been given to correctly align the respective locations and sizes of the frill spikes and nasal horn. The nine individual pieces consist of six spikes, the nasal horn and a lower jaw section, the upper including the skull and sweeping frill. An excellent instruction booklet (three pages) is included which also provides handy tips on use of the proper tools, as well as suggestions on priming and painting the figure. Information is also given on how to mount your figure on a base for display purposes. Styracosaurus is scaled at an approximate 1:10 ratio. The figure is a limited edition of only 25 figures and comes with a numbered certificate of authenticity. Almost1/3 of the kits have already been sold, so potential purchasers should not delay in placing their orders. Next up for Wiccart is a newly completed skull kit of the Mosasaur Platecarpus ictericus (again, see ad in this issue). This kit will sell for the same price as Styracosaurus, but there is a 5% discount for pre-orders sent in immediately. Question of this issue: When will Steve bow to popular pressure and produce a fleshed out figure?
— Issue #5, February–March 1996
If you have additional information, resources or images
I am very keen to hear from you. Please contact me.